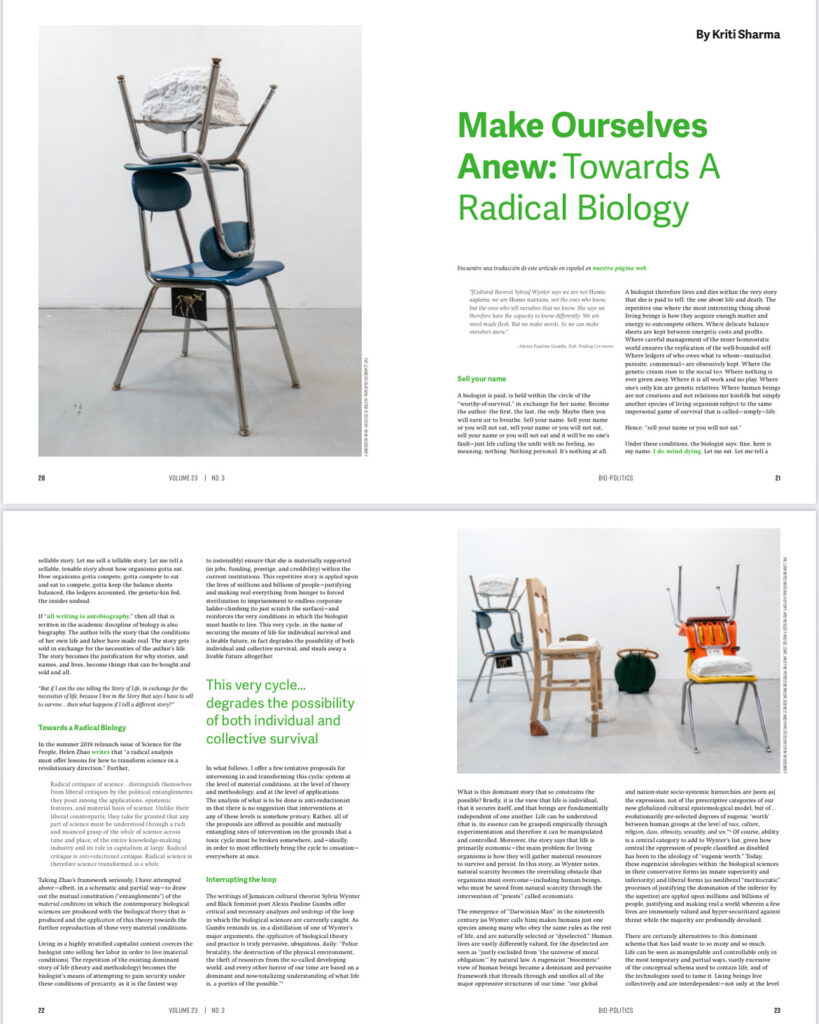 Science for the People Magzine – Essay "Make Oursleves Anew" by Kriti Sharma, images by Erin Woodbrey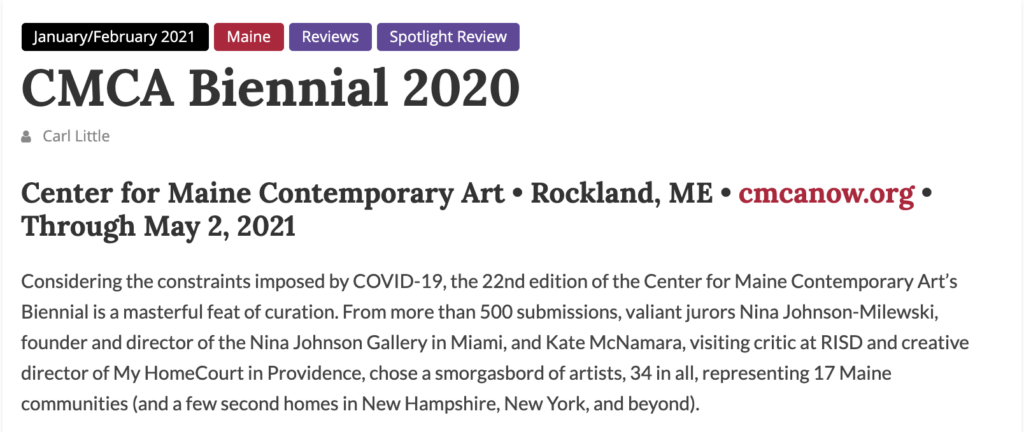 Art New England – CMCA Biennial – Spotlight Review by Carl Little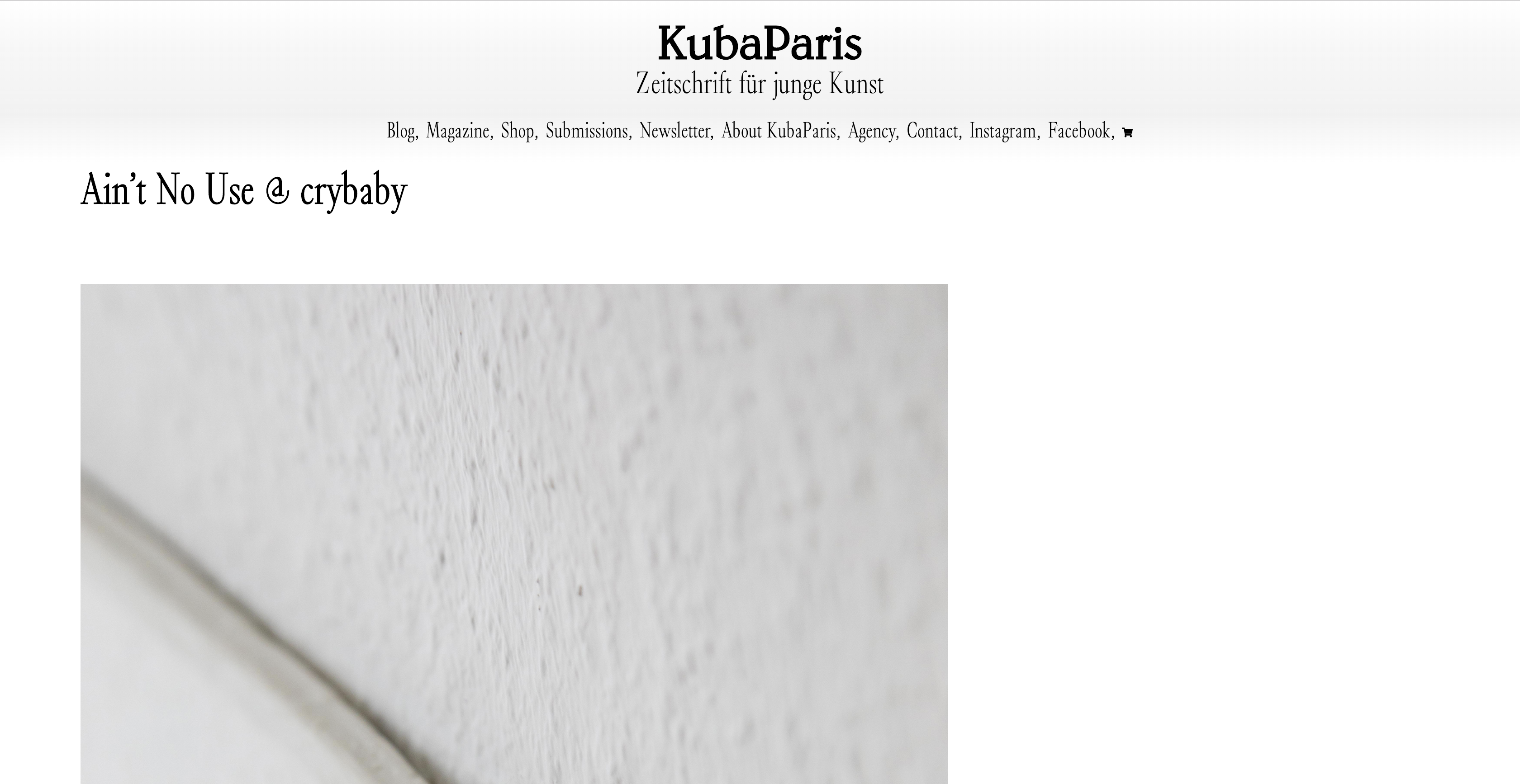 KubaParis
Ain't No Use @Crybaby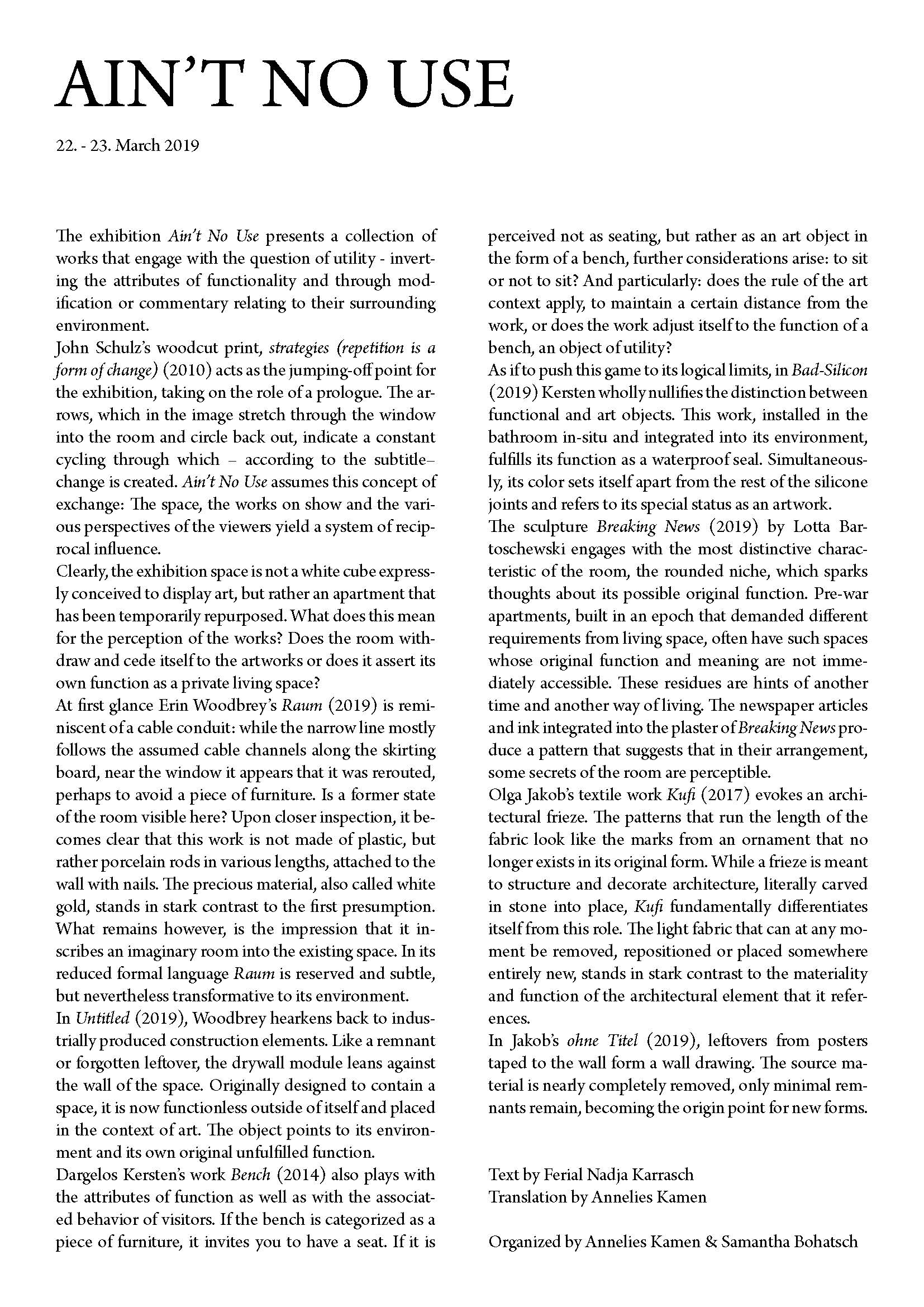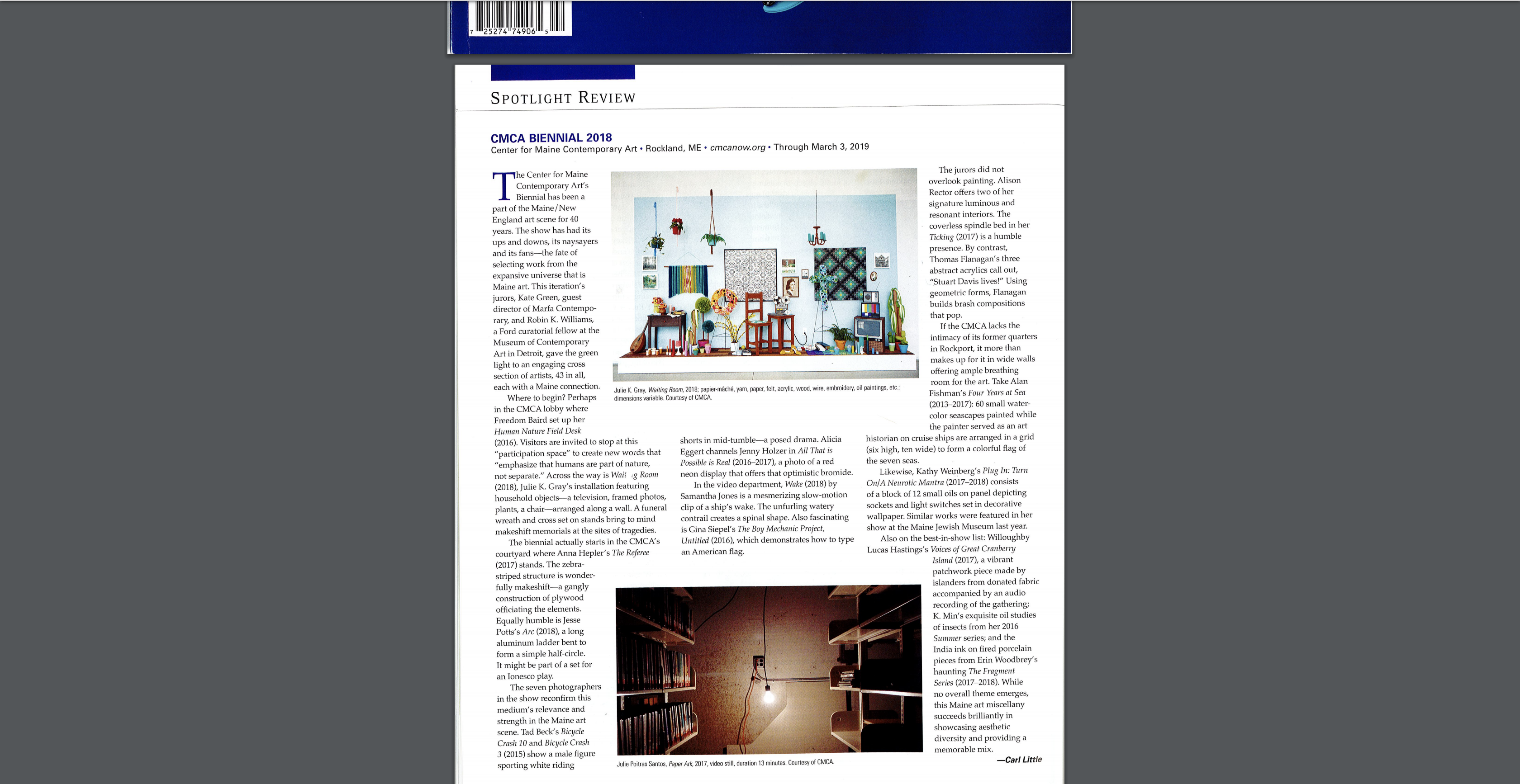 Spotlight Review: CMCA Biennial by Carl Little, Art New England, 2019
Art review: The 2018 CMCA Biennial is good and messy by Daniel Kany, Portland Press Herald, 2018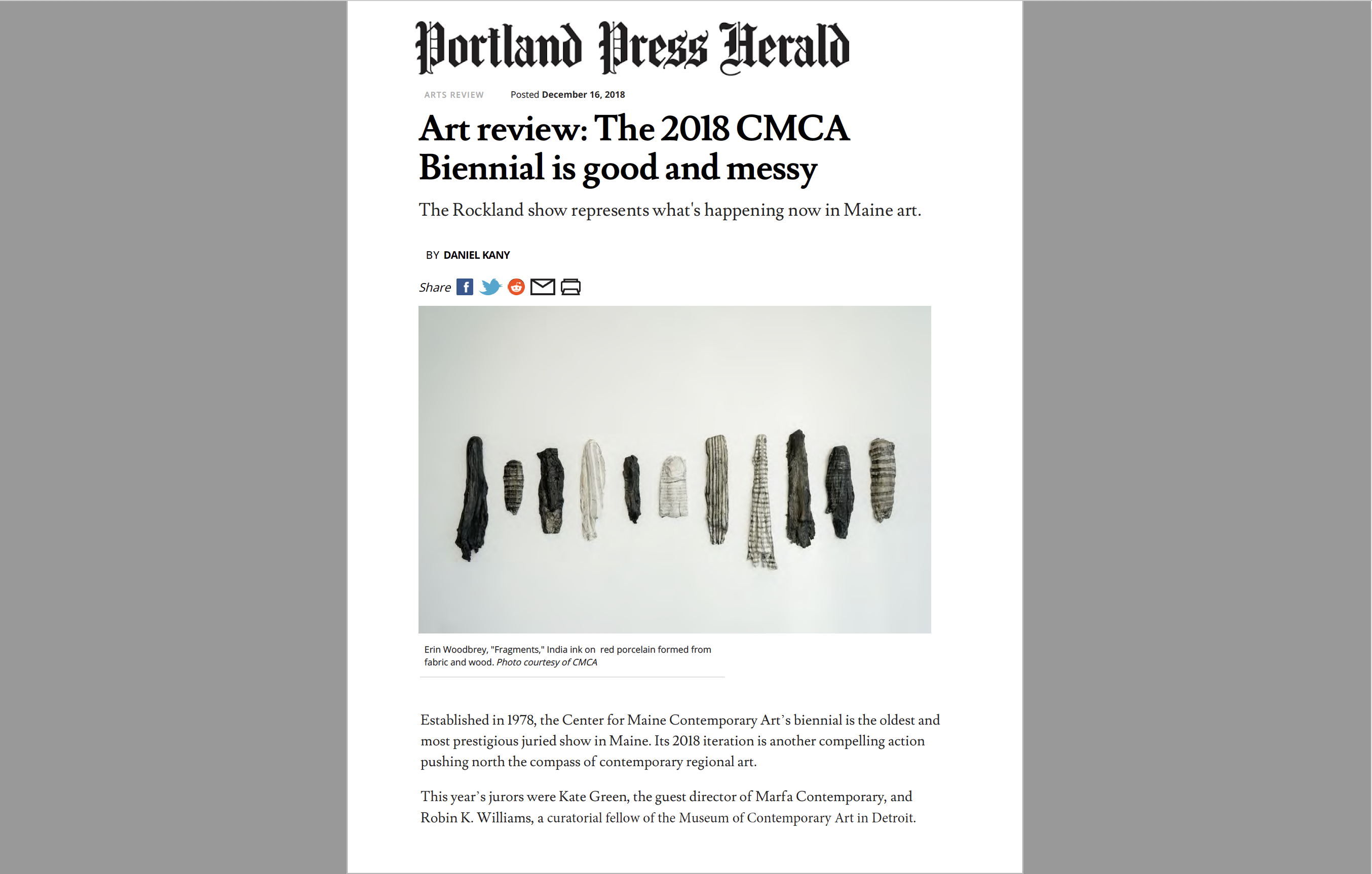 Time Mothers – Erin Woodbrey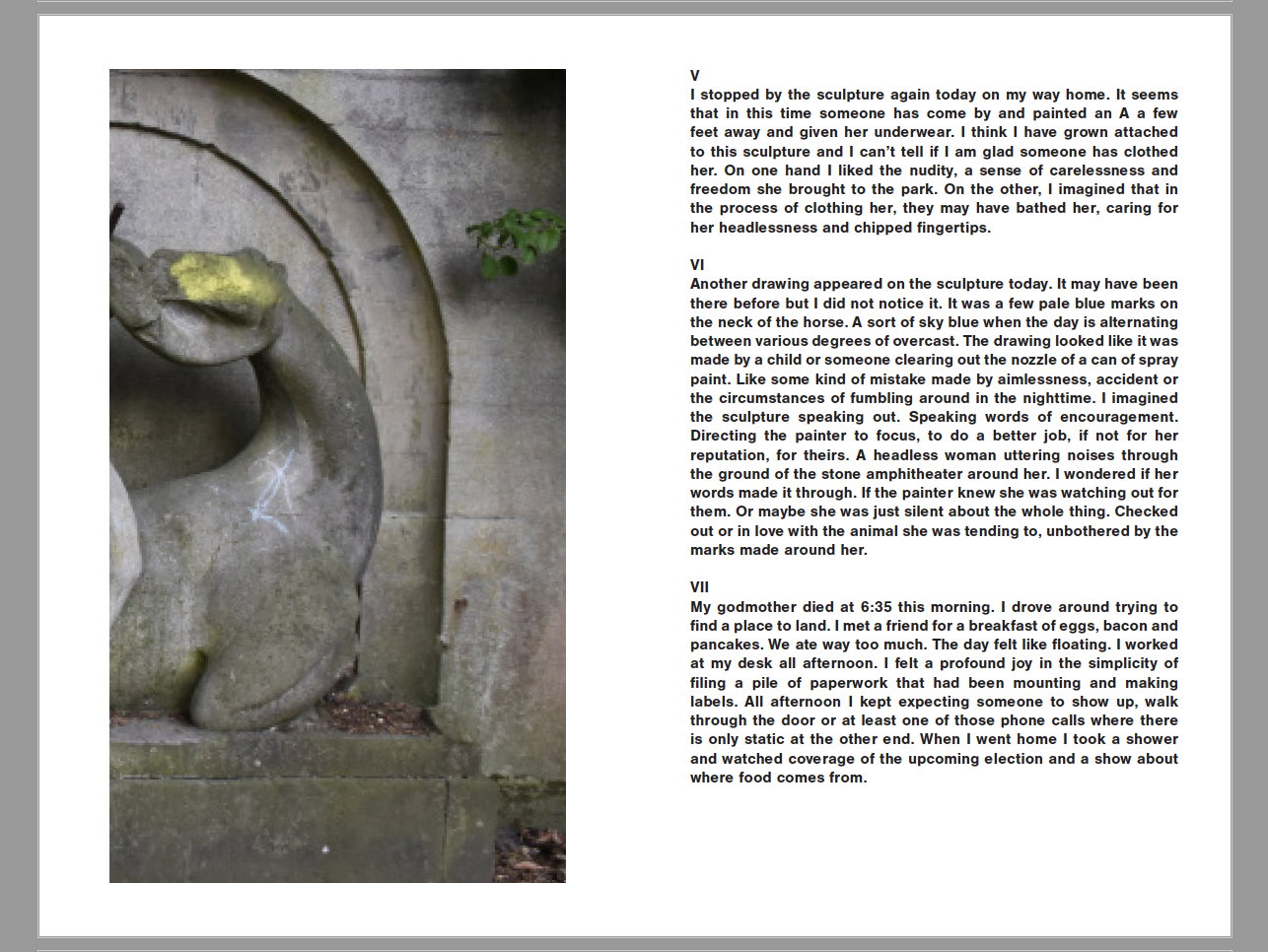 This book was produced on the occasion of the exhibition, Time Mothers, Gaa Gallery, Provincetown, Massachusetts, September 1 – October 8, 2017. Low Res Full Text PDF – 2017_Time_Mothers_Booklet_WEB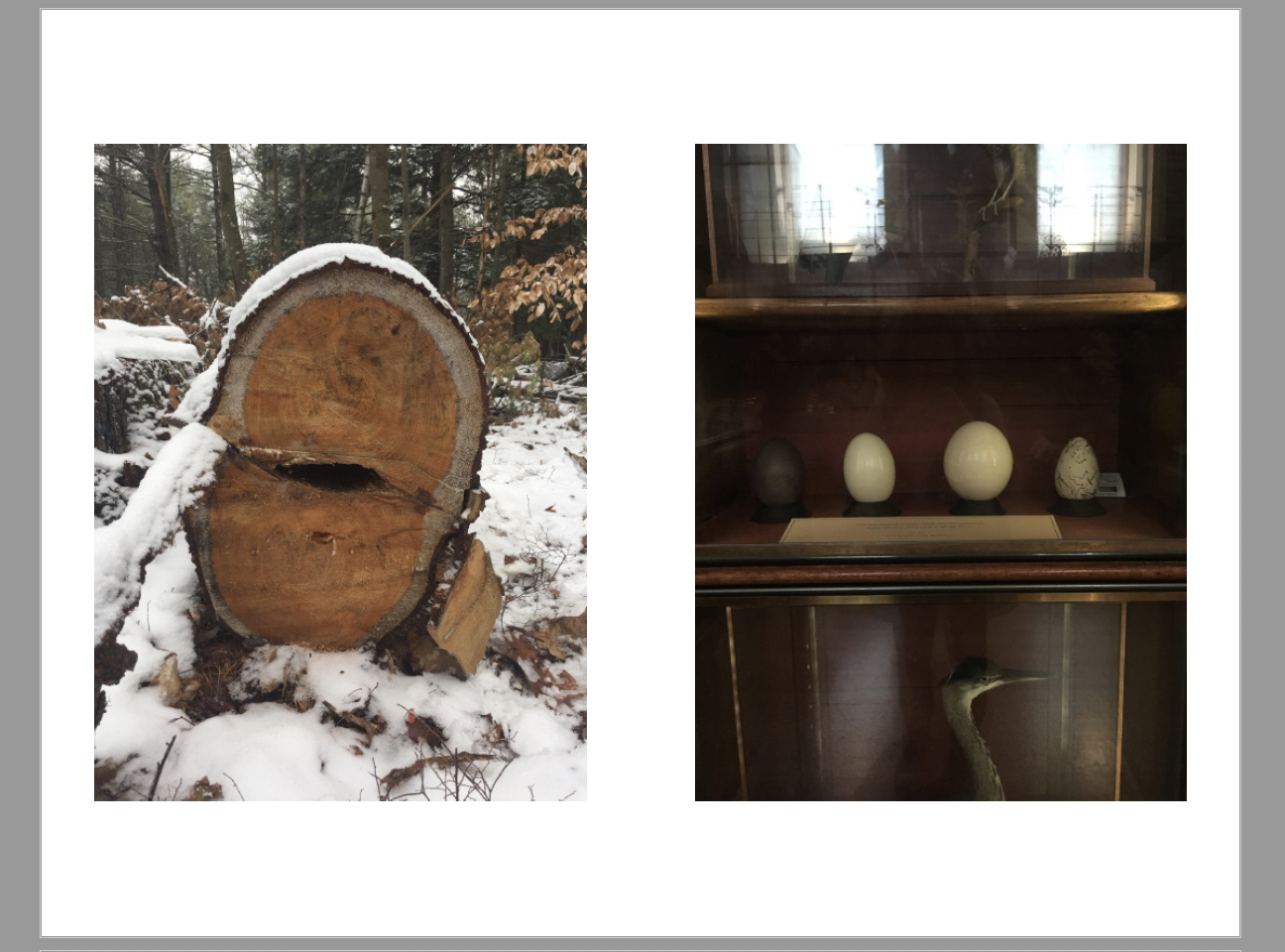 Leg, Limber, Lumber, Limb, exhibition review by John Pyper for Delicious Line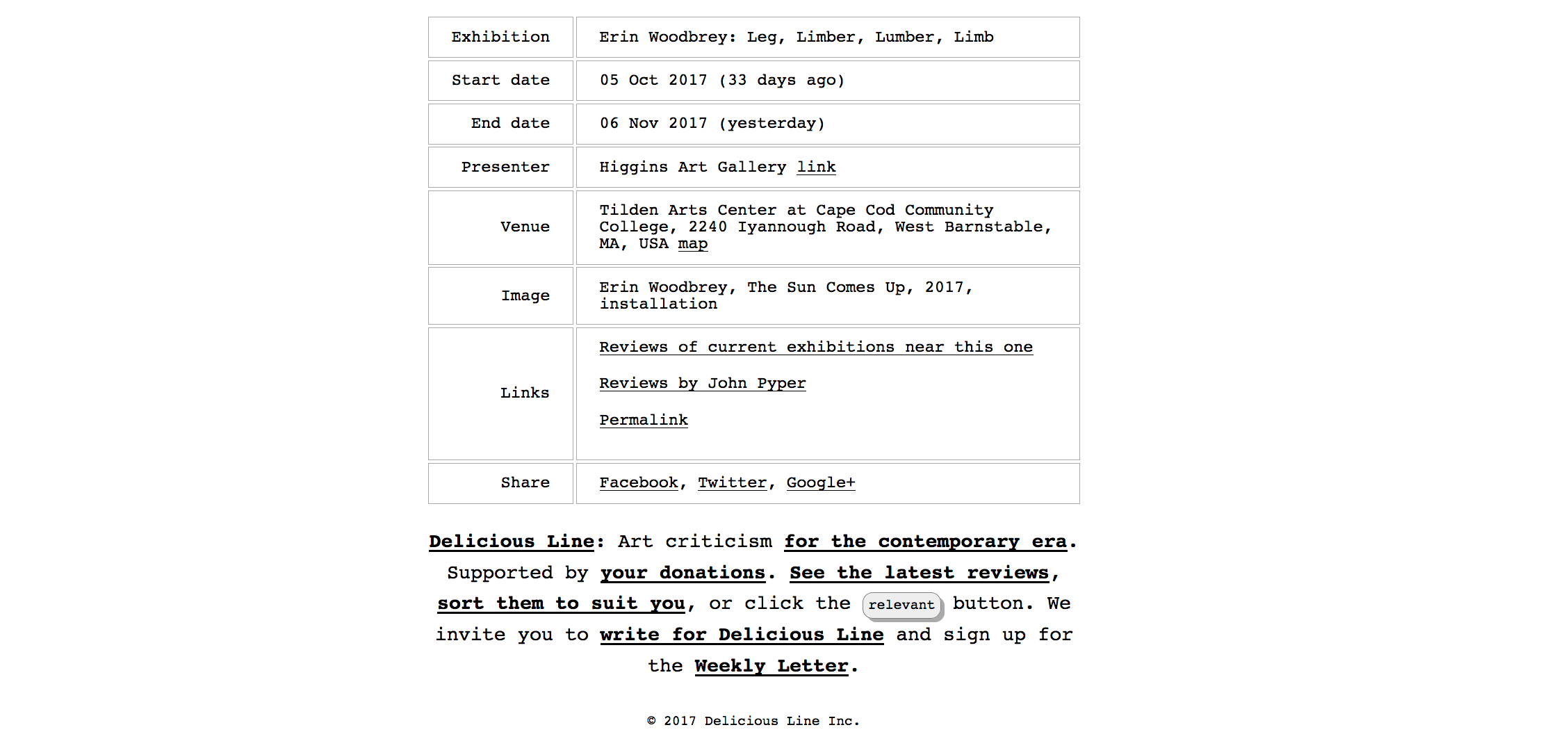 01 Nov 2017
Erin Woodbrey: Leg, Limber, Lumber, Limb
Higgins Art Gallery, Tilden Arts Center at Cape Cod Community College
Reviewed by John Pyper Published ©2017 Delicious Line Inc.
To paraphrase Auden, reading an artwork is an experience analogous to encountering the artist somewhere else. Erin Woodbrey's sculptures, photos, installations, and rock collection analyze and present the non-material experience of place. Fragmented porcelain simulacra embody transitory flashes of cloth and paper. Photographs (enhanced by charcoal drawing) bring us to her erstwhile landscapes. Light beams create hot spots on lush reflective surfaces. Stones weigh down the artist's pockets. Her grandmother's hobo neighbors abandon the shack in the woods as the laws change. Only thing left behind are their enamel pots.
Fragments can illuminate the permanent things in our lives like no other object. The missing nose makes the Roman emperor's bust that much more powerful. The narratives we read into a place's past heighten the potential of this moment. Woodbrey's work writes poems that Auden might love. They "speak quietly, but do not mumble."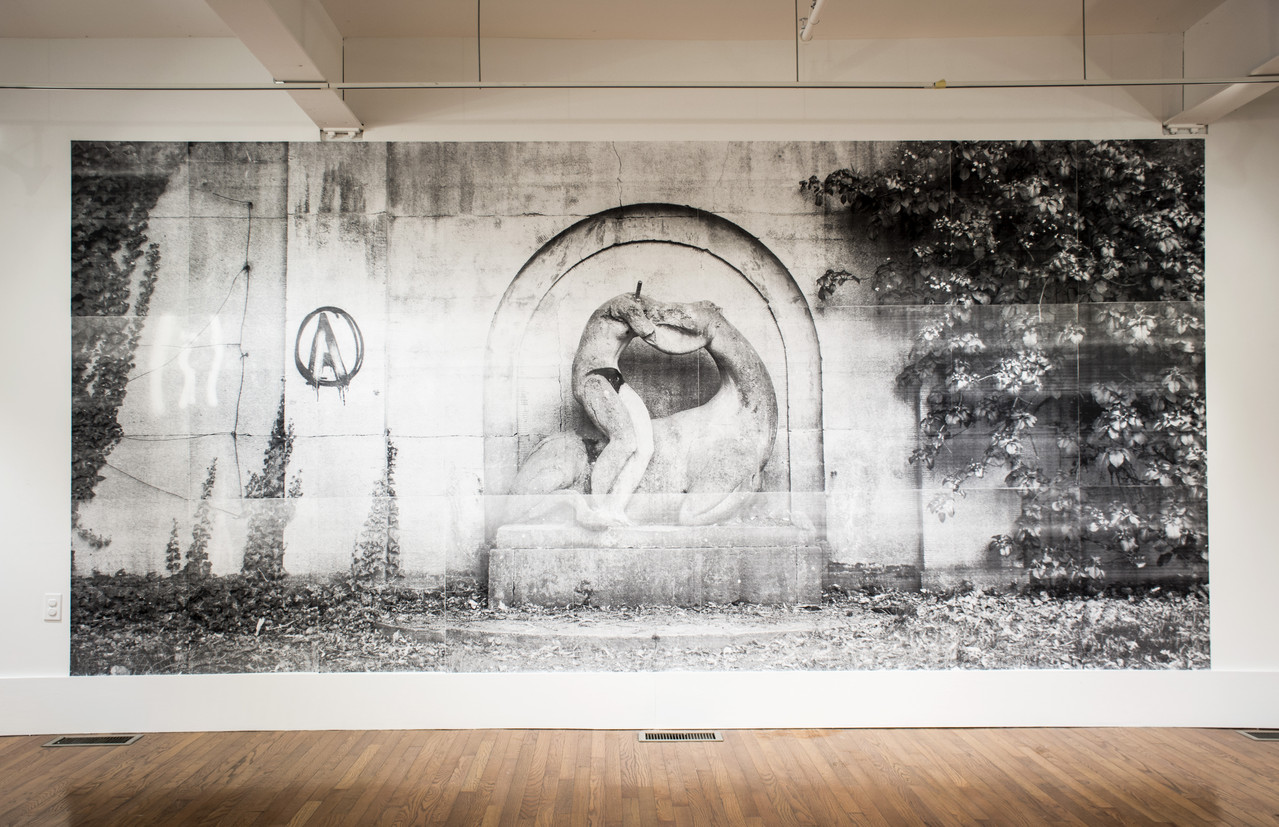 ERIN WOODBREY – TIME MOTHERS
September 1 – October 7, 2017
Opening Reception September 1, 6 – 9pm
Gaa Gallery Provincetown
Time Mothers, from artist Erin Woodbrey, is the culmination of a cross-disciplinary practice comprised of photography, sculpture, prints, and video. Woodbrey's work is presented, piece by piece, as an origin-based examination of fabricated and naturally occurring units of space and time. Her gaze, wide in scope and complex in curiosities, is trained on the interrelated qualities of process, materials, nature, and architecture, asking essential questions about how the functions of objects and nature inform, mirror, and tend to the human condition. Woodbrey's work inquires about the maternal functions of made objects and the natural world: How does architecture support the body? How does physical earth frame human experience?
The artist insists on elemental proximity—the body astride architecture, the foot atop earth—and rigorously directed observation. As we encounter Woodbrey's visions, made manifest in her large-scale photographs, minimalist sculpture, and original writings, we find a constellation of reversals and suggestions. Woodbrey's work pulses with a seer-like restraint, making space for the transformation of objects from static elements to agents of care and living temples of history.
The artist's meditative style is modeled to quiet and distill. Pairing a slurry of porcelain and clothing-based textiles that carry a history of nearness to the body- wool blankets, well-worn shirts and bathrobes, gloves, and socks, Woodbrey's ceramic sculpture studies are relics of human movement and function. Her process-based photographs of art objects and nature, and her reflexive written work all bear the marks of simultaneous precision and urgency. The artist swaps answers for the enduring value found in thoughtful observation; Time Mothers is an elegant, multi-directional exhibition, one that utilizes a range of contemporary approaches to address the temporal qualities of nature and creation.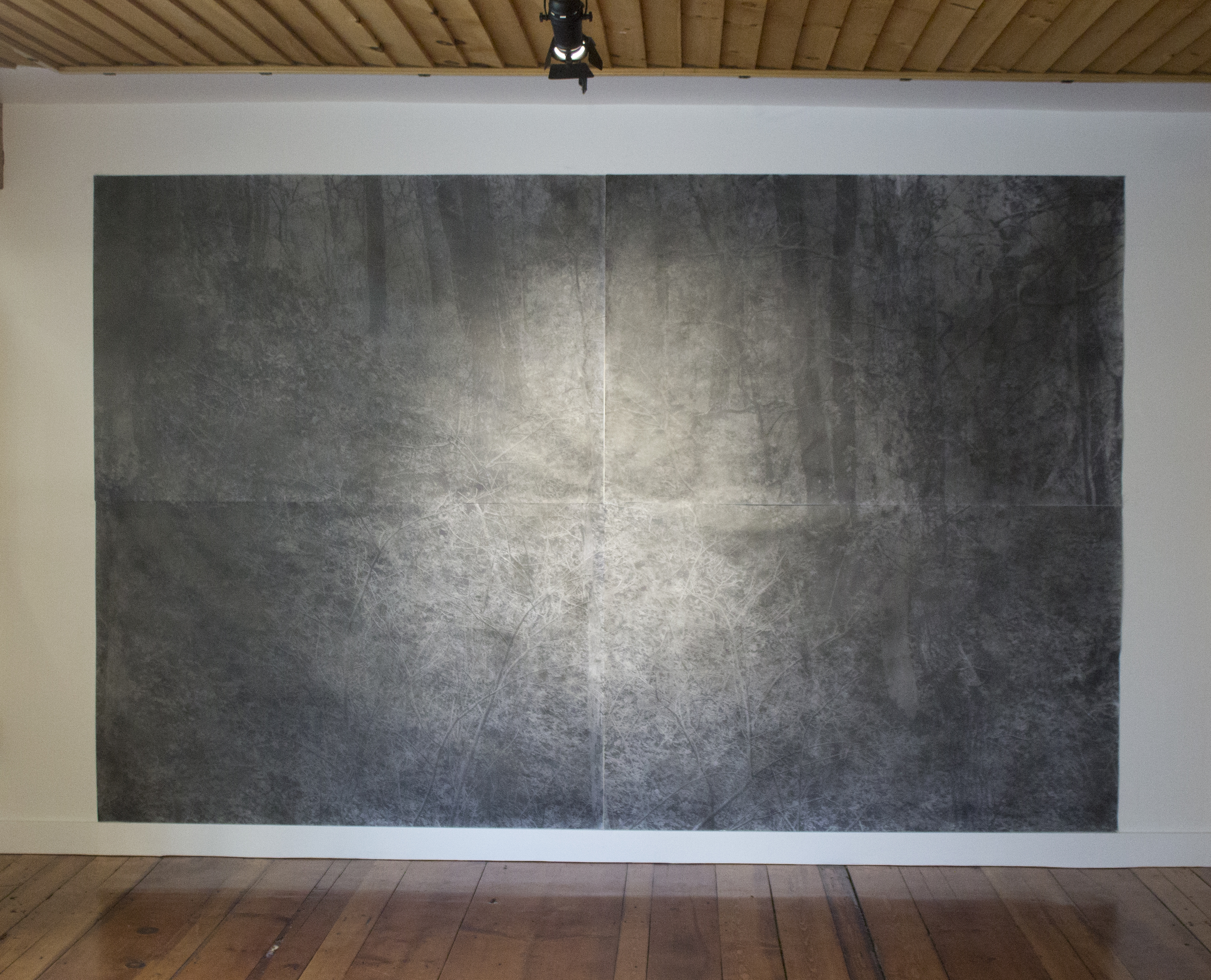 ERIN WOODBREY – AIR OF ANOTHER PLANET
July 2 – 19, 2015
Opening Reception, July 2 6 – 8pm
Gaa Gallery is pleased to present Air of Another Planet, new work by Erin Woodbrey. Air of Another Planet will be featured on the gallery's ground level space. The exhibition will run from July 2 – 19.
The work for this show was created while the artist was tracking the activities of the Mars Curiosity Rover and reading The Air from Other Planets: A Brief History of Architecture to Come by Sean Lally. The title of the exhibition references Lally's text, which investigates the architecture of energy. Through utilizing materials in our existing environment – solar, geothermal, sonic, etc., and their inherent properties and organizational structures, Lally advocates re-imagining the resources we have around us as the building substrates of new kind of architecture. From these points of departure, Air of Another Planet presents the artist's inquiry into material possibilities, surface, perception, and the ability to perceive of the enormity of the universe and the construction of life within and outside of this planet.
Erin describes herself as being in a state of perpetual bewilderment. She is constantly looking, researching and experimenting in order to document the discovery of meaning and reveal latent potential and significance of images, objects, and materials. Air of Another Planet reflects this impetus of making – curiosity, not knowing, and seeking.
Through an interdisciplinary studio practice Erin's work oscillates between installation, photography, drawing, sculpture, and time-based media. Experimentation with materials, images, and methods of display are central to the artist's practice. In the works featured in Air of Another Planet the artist uses material as a poetic language. Materials are pushed beyond their usual utility and purpose. Printers typically used for architectural plans are used to print large scale photographs. Light filters for stage and film are used as veils to present another pictorial space for the image. Locally sourced clay is used not as a sculptural material but a 2D material creating a hybrid of painting, sculpture, and drawing. Graphite is used as a photo manipulating mechanism for the image to create space and tonal range. Stringed lights typically used for lighting in celebratory decoration are rearranged, clustered to form a heat source and constellation of new topography of light. Each piece in the exhibition is built off one another. These works exist alone and in relation to one another. The work of creating is a continual process, constantly evolving.